Boat Polishing - Gelcoat & Paint
We Service The
Following Areas:
Noosa
Mooloolaba
Bribie Island
Redcliffe
Rivergate
Manly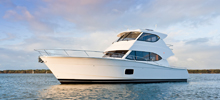 Good boat maintenance is reflected in the appearance of your boat. Marine Detailing Solutions believes this is almost totally determined by the condition of the gelcoat. A badly maintained gelcoat can lead to oxidation, which leaves your boat looking dull and causes greater damage through water intrusion.


Restoring your boat's gelcoat and then following a gelcoat maintenance plan will increase the life and value of your boat. A good maintenance plan preserve the shine and integrity of your boat's gelcoat through a two-part process: cleaning and protecting.


Talk to our professional team today about how we can help you restore your boat to its former glory, or maintain the shine you already have.